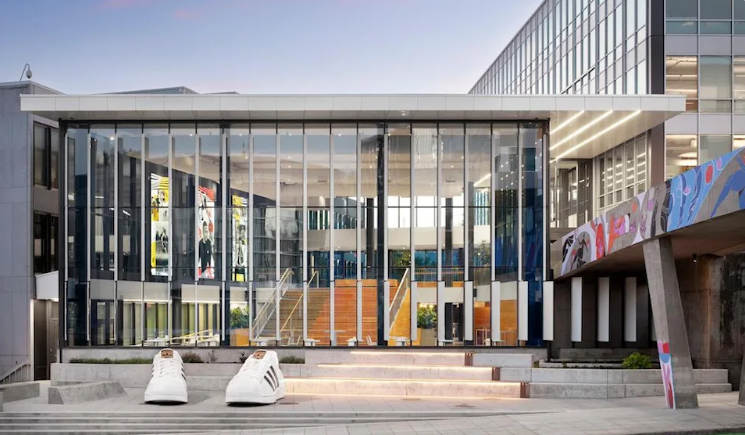 Adidas Completes Village Campus Expansion in Portland
The German sportswear giant, Adidas unveiled its new Portland, Oregon headquarters, called The Village Campus. This 220,000 square foot expansion of its North American campus, which began in 2018, aims to create an environment that promotes both collaboration and the well-being of its employees.
The expansion of The Village campus now brings the total office space on the property to 525,000 square feet, which will house the approximately 1,700 adidas staff members in Portland. Designed by both Studio O+A and LEVER Architecturethis new development includes three new buildings on the site, with spaces for a new gym, cafes, parking and a football pitch, positioned between the buildings.
New features added to Campus Village buildings
Look for construction leads
One of the buildings on The Village campus is a six-story building, featuring open studio spaces, library tables, couches, designer tables on wheels, and other moveable furniture; this design was put in place to create a working environment with spaces adapted to all working styles. The other two buildings are named The Gold building and The Performance Zone.
At the Gold Building, staff can access amenities such as a food hall, cafe, and EV chargers. Other amenities such as fitness equipment, cafe, juice bar, green roof and rooftop lounge can be found in The Performance Zone building, which aims to manage health and wellness employees. Two levels of gym space are available at The Performance Zone for interval training, circuit and strength training, boxing, yoga, dance classes, and cardio and spin.
Read also $120m Jaguars Sports Performance Center to be built in Jacksonville
With Adidas employees returning to the office in the post-covid19 pandemic era, the new Village Campus facilities are intended to ease the process of transitioning from remote to physical work. A hybrid model has also been put in place that gives staff the option to come into the office three days a week and work remotely two weeks a year.
Rupert Campbell, President of Adidas North America, said the company is committed to creating the best work environment with state-of-the-art facilities to inspire passion, energy and creativity. people who make Adidas special.