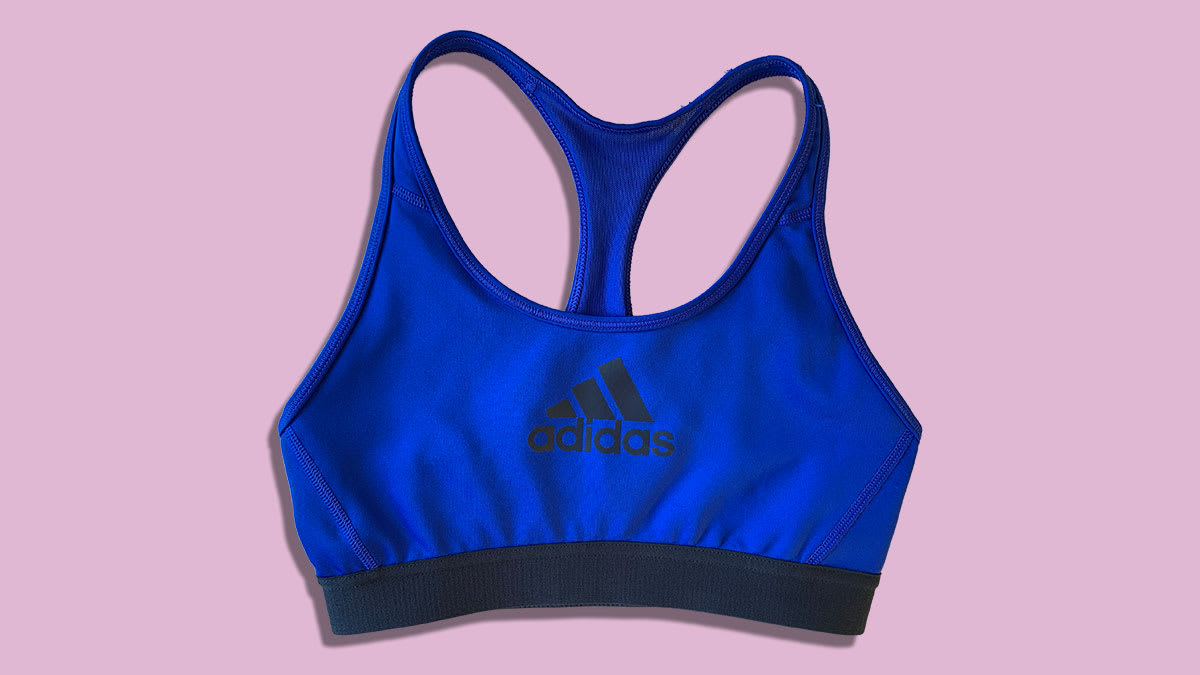 Adidas Don't Rest Alphaskin Sports Bra Review
Price: $24.70 to $35
Or buy: Amazon, Macy's
Size range:XXS to XXL
Style: Compression
Adjustable straps: No
Adjustable band: No
strap style: Racer back
Other Features: Any
Adidas has a reliably great look if you like a more retro-sporty style (which I am). There's a wide range of fun and vibrant colors, including an almost blinding neon yellow, cranberry, and deep, rich sapphire blue. The front of the bra features a bold Adidas logo in a few styles, which I thought was fun but another reviewer liked less: "The big logo in the front and center looks like it could start to crack and harden after a few washes."
The bra is a traditional compression style, with a racer back and no adjustable features. The racerback is made of a thin, ultra-breathable loose-knit fabric. But its light and delicate nature made us wonder if this bra would have a shorter lifespan than some others.
It's incredibly comfortable for lounging, and because it's full coverage, I was able to complete my yoga workout with no problem. A reviewer wore it for her Barre3 class and found it so comfortable that after washing, she wore it the rest of the day. Another wore it to a spinning class but found it less comfortable; the band was too tight and she wished she had gone up a size.
My main issue with this bra had to do with the straps. They are too long so my bust was only supported by the band and none by the shoulders. And it looks weird, even a little flabby, not ideal! These straps may be more appropriate for someone on the taller side, but since I'm only 5ft, they were way too long for me. Adjustable straps would obviously make this bra suitable for a wider range of wearers. With 11% spandex and 89% recycled polyester, this is another ultra-stretch bra, so the support will be lighter and the bra can stretch over time.
I will continue to wear this bra for yoga and going out this summer; it will look great under some of my favorite tanks. But due to its materials and construction, it's not the best option for more intense workouts.