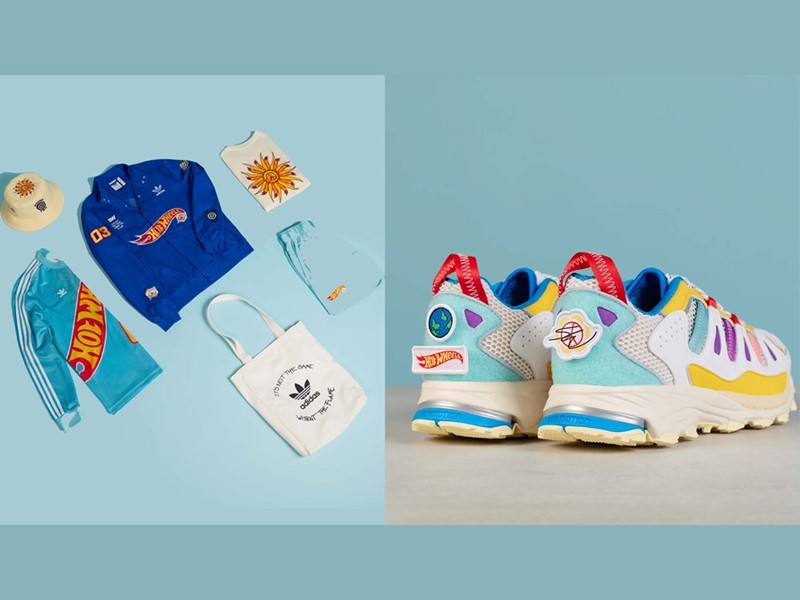 adidas Originals and Sean Wotherspoon team up with Hot Wheels to form a Dream team
As momentum and expectations grow around each adidas release that Sean Wotherspoon has developed, followers are keeping their eyes peeled on their social media feeds for colorful glimpses of what shape his next drop might take.

The Los Angeles-based designer returns with another high-octane release, this time combining his love for all forms of automotive memorabilia by incorporating Hot Wheels into the frame to create a racing-inspired collection of apparel and footwear. , brought to life by a series of bold, in your face graphics. The apparel collection includes a running jacket, long-sleeve mesh t-shirt, cotton t-shirt, trail shorts, bucket hat, and reversible tote bag. While the shoe version includes an updated Superturf Adventure shoe with detachable patches and
an expressive take on the classic adidas slider, the Adilette.
adidas Sean Wotherspoon Hot Wheels Apparel, Accessories & Sliders Go Live August 18the exclusively on Confirmed and in the Sean's Round 2 store. Entries for footwear items will begin August 18eavailable worldwide via adidas.com and select retailers August 25e.
About Sean Wotherspoon
Sean Wotherspoon's star continues to rise, maintaining his status as one of adidas' most prolific current creative partners. As the founder of the successful and ever-expanding Round Two empire, Sean's encyclopedic knowledge of classic sportswear and his obsession with vintage memorabilia led him to develop a number of sneaker and apparel releases. for sale, as part of our ongoing brand partnership. Highlights include its first reimagining of the iconic Superstar SUPEREARTH, a patchwork version of the ZX 8000 in adult and kids sizes and the adidas SUPERTURF ADVENTURE SEANWOTHERSPOON trainers, now available in a number of colorways. A key feature of Sean Wotherspoon's colorful designs is his dedication to limiting their impact on the planet, with some versions featuring repurposed waste from manufacturing processes and plant-based materials.
About Hot Wheels
Founded by Mattel in 1968, the success of Mattel's Hot Wheels brand is unparalleled. Recognized as the world's largest manufacturer of miniature model cars, their products are enjoyed by children and adults alike, with many collectors paying substantial fees for rare models on the resale market.
About Adidas Originals
Inspired by the rich sporting heritage of adidas – one of the world's leading sports brands and a global designer and developer of athletic footwear and apparel – adidas Originals is a lifestyle brand founded in 2001. With the adidas archives at its core, adidas Originals continues to evolve the brand's legacy through its commitment to product innovation and its ability to filter the creativity and courage found on the courts and sports arenas through the prism of contemporary youth culture. Marked by the iconic Trefoil logo that was first used in 1972 and championed by those who continue to shape and define creative culture, adidas Originals continues to lead the way as a pioneering sportswear brand for the street.