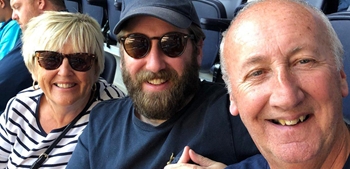 Five minutes with… Jim Howick, actor, Spurs fan
Tell us your story with Spurs…
Jim: "It was my father. He used to vacation in Bounds Green, oddly enough. He was from Chichester, his aunt and uncle lived in Bounds Green, and he was going to visit them for a week during the summer holidays. It was in 1960/61, when we were the best team in the country! He used to get off the ground on the bus, buy a ticket the same day, and stand in the Paxton. So when I was a kid I was brought up at Bognor Regis a lot of kids were supporting Liverpool a lot of Spurs but I remember there was one kid I hung out with who was a mad fan of Liverpool, and my dad could you see I was heading in that direction, so he pulled his box of programs out of the loft one day and said, 'Take a look at these'. He has a nice collection. That was it. I saw the rooster, it's done.
Do you remember your first game?
Jim: "The first game I went to was at Fratton Park, Portsmouth, because we lived in the south. It was 1985 (November 27, fourth round replay), the Milk Cup. We had Ardiles, Hoddle, Falco, Mabbutt, Perryman, a classic Spurs side. I remember being completely captivated by seeing the players and being in a pitch, seeing a pitch, a magical moment. My first home game was Gerry Francis' first game in charge (Villa, Nov 19, 1994), I was 14, pretty late, but we were in Bognor, and it's a bit of a mission to get there . We drove up, we parked, we had a fry, we went to the club shop, dad bought me a coat he probably couldn't afford, one of those big style coats manager. We lost 4-3, Dean Saunders scored the winner. It was also the first day of the National Lottery, and everyone wanted to go home. We went to my aunt's and piled in to watch it ourselves. We got our money back! My mom made some noise to my dad because he bought me the coat, but we got the money back. I couldn't even use the coat! My dad bought it for me for my paper tour but I couldn't get over the crossbar on it because it was quite long! It's ridiculous, really.
What's your favorite Spurs jersey?
Jim: "The 2001/02 home shirt, adidas/Holsten, the return of Teddy, had a pale gray collar. Attractive. My first kit was the Hummel '86 kit, I slept in it.
What's on your to-do list at Spurs?
Jim: "An interview at the edge of the field! I did one at the Lane, that was when we played AS Monaco, 2014. You won't see me rappelling from the Dare SkyWalkthen I'll go.
What's your favorite Spurs goal?
Jim: "It must have been Gazza's free-kick in the 1991 FA Cup semi-final against Arsenal. I wasn't at Wembley, we were watching from home. The buffet went everywhere, sausage rolls, crisps, everything What a game. This is my favorite.
What are you doing for the rest of the week?
Jim: "I'm busy doing post for Ghosts 4, I hope in between that, I'm going to walk the dogs and enjoy the sun. Sunday I'm taking my dad to an air show in Duxford for Father's Day. That said, I miss going to Spurs right now!
We spoke to Jim on Tuesday…