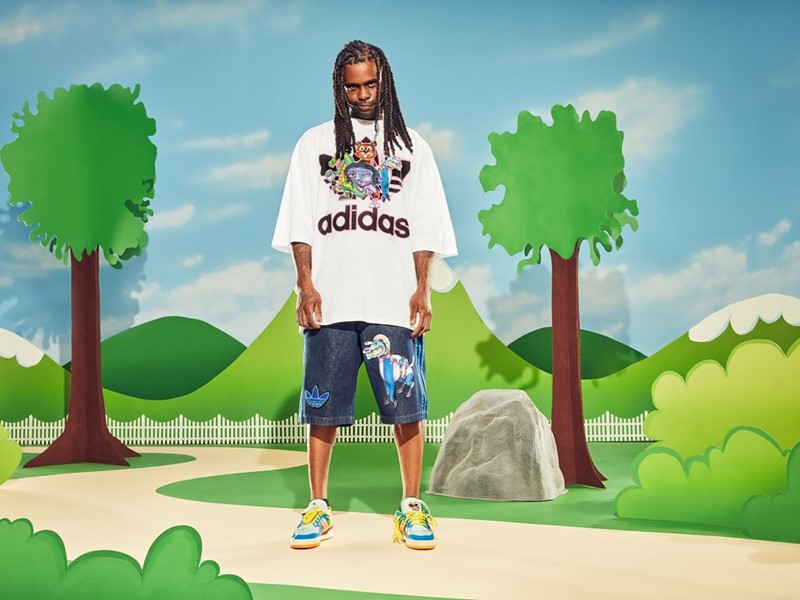 KERWIN FROST BRINGS ITS FUN POINT OF VIEW TO OUR FIRST COLLABORATIVE COLLECTION
Fresh off the trendy launch of its oversized and comically oversized Superstar sneakers, Kerwin Frost returns to present its first full collection in collaboration with adidas Originals. Infusing the brand with youthful energy and the lexicon of Kerwin's childhood, the enigmatic cultural polymath who never fails to get everyone talking brings a suite of clothes and shoes to his inimitable goal.
"Creating this collection with adidas has been a dream since I was a child. Designing the product and planning the deployment has been a wild ride – it's so crazy that it's finally going to exist in the world! said Frost. "I hope people get excited when they see the pieces and it makes them feel something. My main message is not to be afraid to try new things and put your thoughts on paper and especially not to worry about what people think. "
The collection offers an aesthetic inspired by nostalgic images and retro clothing trends. The family of graphic characters represent familiar faces that you may have seen in your childhood, but instead of being cute and heartwarming, they create a sense of surrealism and whimsy. The collection includes oversized t-shirts, denim shorts, fluffy jackets and a chili tracksuit, creating a world of fun and a safe space for true independence, with bright and bold colors. The freedom felt in the design allows the consumer to feel unique and confident.
When it comes to shoes, Frost is reinventing the adidas Originals Forum High and Forum Low as only he can. Subverting the iconic silhouette of the white and blue Forum, the KF Forum Hi Humanchives sneaker features a lace jewel in the shape of a nose molded in TPU, a silicone mouth on the bumper and the Kerwin Frost branding on the the ankle strap. Meanwhile, the KF Forum Lo Benchmate comes to life with the printed addition of the collection's family of graphic characters and features a striking Clear Mint / Bright Blue / Solar Yellow colourway.
The collection then comes to life with an energetic and playful lookbook by Vijat Mohindra and featuring Chief Keef.
Undeniably fun, young and naive and decidedly carefree, the first full collection of adidas Originals by Kerwin Frost launches globally on November 17 and is available through Confirmed and select retailers.