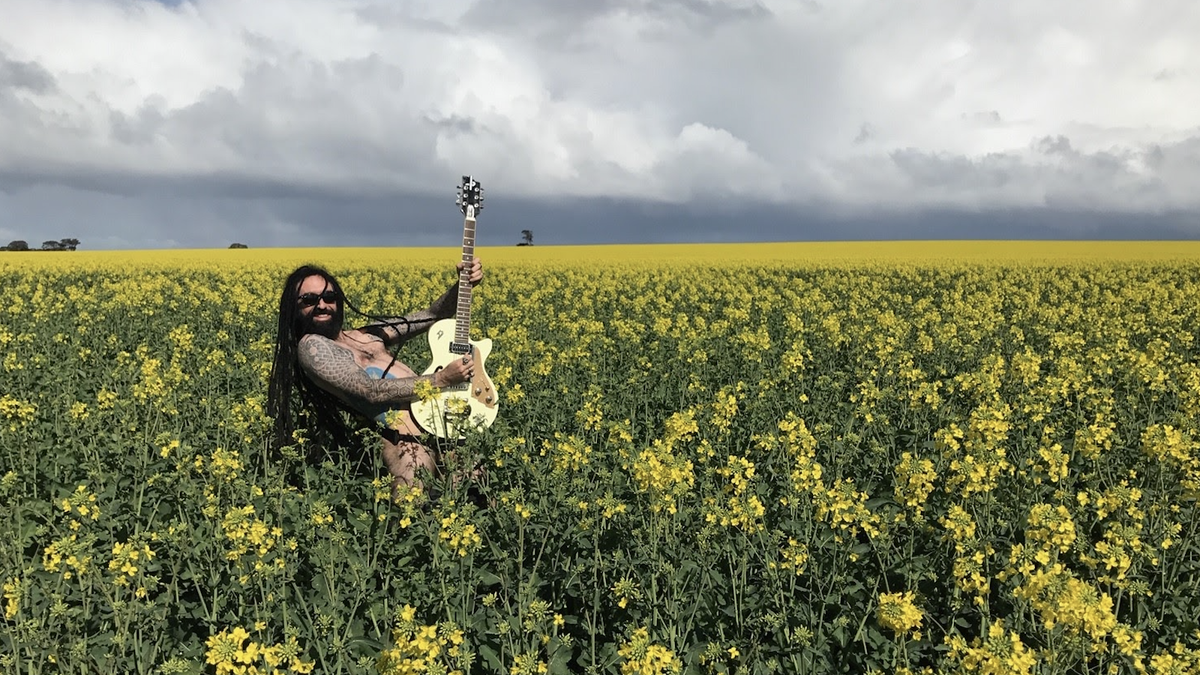 Spotlight on: Sam Sheumack from Fangz
SAM SHEUMACK
JUST: Sydney, NSW
PLAY IN: Fangz
IT LOOKS LIKE : Roaring punk with hooks for days
LAST LEAVE: "Prove Me Wrong" (alone now independently)
What is your current favorite guitar?
It would have to be a link between my white Duesenberg Starplayer TV and my Duesenberg Caribou. The Starplayer lasts for days, performs wonderfully, is bursting with sex appeal and looks great no matter what color of Adidas tracksuit I wear on stage. The story behind the Caribou is a fun one. Jameel [Majam, bass] and I was driving to play a show in Adelaide, and if you've never done the drive before, there are huge canola fields along the way.
I decided to undress with the Starplayer and take a photo in the field. The photo went a bit viral and soon after I got in touch with the A&R rep at Duesenberg. Since then, I approve of their guitars. The Caribou has been my favorite recording guitar since Fangz's inception. I swapped the pickups with the Lollar P90s early on and never looked back.
How did you first fall in love with the instrument?
I was about 13, in eighth grade in high school. I was also very fond of cricket and skateboarding at the time, but I realized soon after that it was much harder to break bones while playing guitar, so guitar became my goal. main. My first guitar was an Ashton AG140 electric purchased from River Music in Windsor. I still have it somewhere. It was a hell heavy Strat style guitar with a natural finish and served me well in my early years trying to play Metallica and System Of A Down songs terribly!
What inspires you as a player?
Guitarists like Tony Iommi, Dean Richardson, Josh Homme and Pat Davern were probably the biggest influences on my sound. Early in our career as Fangz someone reviewed one of our shows and described it as "a punk band trying to play Black Sabbath". I think this is an accurate description. Another big influence that inspires me more than anything is going out and seeing local bands at a nearby pub. Australia has so much great punk and heavy music coming out right now.
Are you really a speed nerd?
I was definitely a lot more of a gear nerd. These days, if we were to leave the house for a recording session, I would make sure to go out with my Klon KTR Overdrive, my Deep Trip Hellbender fuzz, my 1965 Fender Bassman head, and one of my Eventide H9s.
Do you have "white whales"?
I'd love to get my hands on another vintage Fender Bassman – ideally a 1962 blonde with a matching cab, or a 1959 tweed combo. While we're at it, let's grab an original Klon Centaur. How am I rock dad right now?
What would your signature model look like?
I love the look of the new Duesenberg Falken, they are a bit like a modern and sleek Gibson Firebird. I love the Duesenberg trem, so it must be there. It would have to be vintage white or black, I'd have Lollar P90s in it, and I'm guessing three stripes somewhere as a subtle Adidas benchmark.
If you could jam with any guitarist, dead or alive …
Frank Zappa, for sure. He is one of those unique artists who are still ahead of their time, even though they passed away almost three decades ago. I grew up listening to my parents' Zappa records, and I've always been amazed by his approach to composition – and his crazy phrasing. Plus, he's always been one of the most spontaneous and exciting guitarists when it comes to improvisation. I would love to jam with him on his track "Zoot Allures".