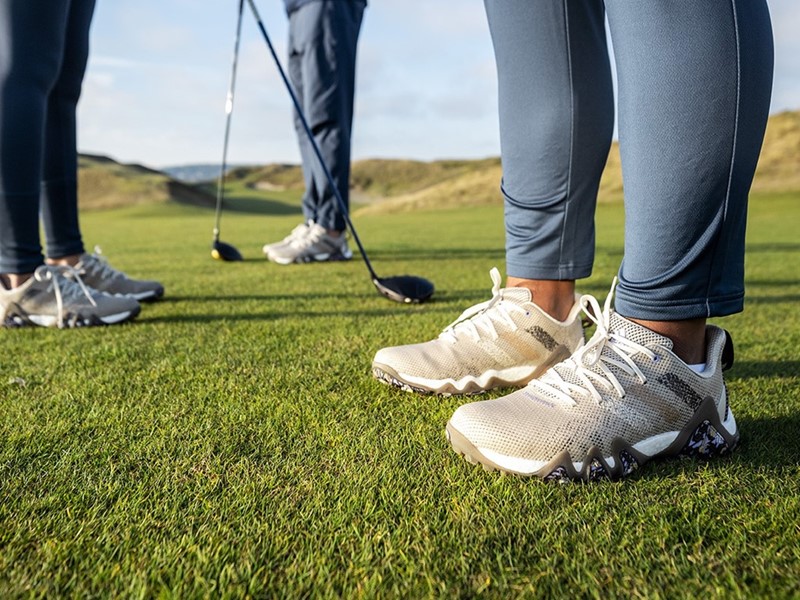 The limited edition of CODECHAOS 22 celebrates golfers around the world
The most disruptive golf shoe showcases what makes golf great: the people who play it.
Everyone has a different game of golf – a distinctive style of play that they bring to the course. We're seeing more cross-generational players than ever before, and we're celebrating this increase in diversity with our CODECHAOS shoe franchise. Presentation CODECHAOS 22 Limited Edition, a shoe that helps redefine what it means to be a golfer because it has no limits on who can wear it. Whether you're a beginner or a pro, or somewhere in between, this shoe accommodates your game.
Although it features the franchise's refreshed construction and disruptive silhouette, this shoe contains visible differences on the outside as the three stripes are tricolor. Typically a singular color, the three stripes feature a light, medium and dark brown stripe to celebrate individuality in the game. Inside the shoe is a unique purple insole which contains graphics of a group of squirrels playing golf with hints of trees, acorns, flags and other common golf symbols.
"As a brand, we see possibilities where others see the impossible, which is why we are using the CODECHAOS franchise to unite the golf community," said Masun Denison, Global Head of Footwear, adidas Golf. "To break the mould, we intentionally chose our loudest shoes to encourage golfers everywhere to not only play the way they are, but embrace their style of play."
Featuring elements from the CODECHAOS model, this shoe features innovative improvements such as the remarkable TWISTGRIP technology that extends into new areas such as the heel, forefoot and sidewalls for extra grip with every swing. Featuring a bold design made from recycled materials, the upper features a multi-layered performance textile with a thin, tinted PU film that promotes stain resistance and supports a waterproof guarantee. Plus, players will always experience comfort with every step as the shoe contains our BOOST cushioning technology.
The CODECHAOS franchise isn't aimed at just one type of golfer, which is why we've offered it in laced for men and women and in BOA for juniors. Pushing the boundaries of style and performance, the BOA will feature new technology that the franchise introduced earlier this year, including a new closure system with overlapping technical panels under the zipper. While showcasing premium aesthetics, the convenient on-off construction provides enhanced support and a customizable fit for every player.
We're constantly inspired by those who approach the game differently, which is why this shoe will be available in a limited-edition brown, purple and white colourway. The beige and brown tones signify the traditions of the sport, while the purple tones represent a progressive future. We find this mix of colors represents the game today, while welcoming what's to come.
The new limited edition CODECHAOS 22 will be available from August 1 on adidas.com, the adidas app and at select retailers worldwide, unless otherwise noted above.